Máy Scan Plustek PS386
Giá : Liên hệ
Giới thiệu về dòng máy scan plustek ps386
Dòng máy scan 2 mặt Plustek SmartOffice PS386 có chức năng:
Quét 2 mặt chuyên nghiệp lên đến 20 trang màu
Máy quét tài liệu Plustek được thiết kế với công nghệ sử lý giấy, hình ảnh và độ tin cậy cao đáp ứng cho hầu hết doanh nghiệp, cá nhân và văn phòng nhỏ, với mức giá hấp dẫn.
Khay nạp giấy tự động thiết kế cho 50 tờ với công suất quét hàng ngày 3000 tờ cho phép máy scan plustek ps386 được sử dụng trong bất kỳ ứng dụng nào đòi hỏi việc quét tài liệu và thẻ cứng thường xuyên.
Những điểm đặc biệt của máy scan plustek ps386 :
Tự động chỉnh ngưỡng ảnh hiện tại thành ảnh màu đen và trắng nhị phân.
Tự động xoay tài liệu dựa trên nội dung của tài liệu.
Tự động chỉnh thẳng và cắt đường viền ảnh theo kích thước thực tế của tài liệu.
Lọc đỏ, xanh lá cây hoặc màu xanh da trời khi quét biểu mẫu.
Tự động loại bỏ các trang trắng mà không chỉnh sửa bằng tay, giảm quét lại, và tăng độ chính xác OCR.
Chức năng một nút nhấn cho ta 9 chế độ quét khác nhau bao gồm: quét ra file seachable PDF, lưu vào thư mục trên mạng hoặc máy tính, quét vào email, quét tới ứng dụng, quét tới máy in.
Xem Thêm : may scan plustek d430 , may scan plustek d600






The features of the scanner Plustek PS386
Reliable Paper Handling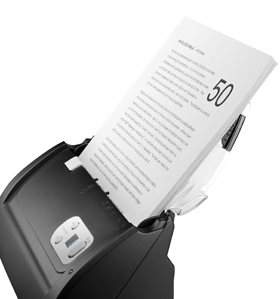 A redesigned 50 page Automatic Document Feeder with a 3000 page per day duty enable the SmartOffice PS386  to be used in any application requiring frequent document and rigid card scanning.
Versatile Paper Handling Ability
The SmartOffice PS386 is designed to scan business documents up to 50" long and rigid cards, such as ID cards and drivers licenses, up to 1.2mm thick, without operator adjustments. Mixed batches of documents can be scanned without sorting thanks to the class leading paper handling and image processing.
Easy to Use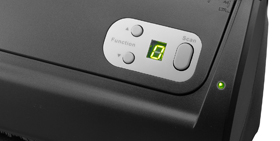 Single Touch buttons automate up to 9 different scanning jobs including: scan to searchable PDF, save to folder on your network or your computer, scan to email, scan to an application, and scan to printer. The innovative automatic wake-up function turns the scanner on as soon as documents are placed in the feeder.
Compatible with most imaging applications
Industry standard TWAIN and WIA drivers combined with TIF, JPG, PDF and Microsoft Office file formats ensure compatibility with thousands of scanning and imaging programs. ABBYY FineReader Sprint is included to easily create and manage searchable PDFs at the touch of a button. Built in image processing insures the highest image quality, reduces rescans, increases OCR accuracy and now includes automatic color detect.
FeaturesThe SmartOffice PS386  has following features
● Auto Threshold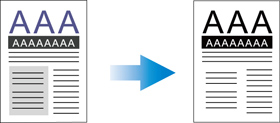 Automatically thresholds the current image into a binary black and white image.
● Auto Rotate
Automatically rotates document based on the contents of the document.
● Auto Crop & Deskew
Automatically straightens and crops image to the documents actual size.
● Auto Mode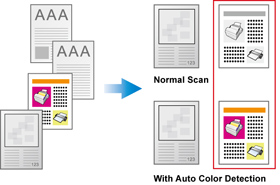 Automatically detects document color and scans document in color, grayscale or black & white mode.
● Multi-Image Output
Scans and saves documents in 2 or 3 color modes at same time.
● Color Dropout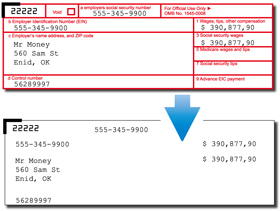 Removes red, green or blue color when scanning forms.
● Blank Page Removal
Automatically removes blank pages without manual editing.
Image Sensor
CCD x 2

Light Source

LED

Optical Resolution

600 dpi

Hardware Resolution

600 x 600 dpi

ADF Capacity

1. 50 sheets (A4/ Letter, 70 g/㎡ or 18 Lbs), Max. thickness under 5mm (0.2″).
2. 20 sheets (Business Cards).
3. Plastic Card, Max. thickness under 1.2 mm.
Note: Maximum ADF capacity varies, depending upon paper weight.

Scanning Speed ( ADF )

25 ppm/ 50 ipm (Grayscale mode, 200 dpi, A4 Portrait)
25 ppm/ 50 ipm (B&W mode, 200 dpi, A4 Portrait)
20 ppm/ 40 ipm (Color mode, 200 dpi, A4 Portrait)
Note: Results may vary depending upon your scanning application, computer processor and system memory.

Scanning Area (W x L)

Max: 216 x 2500 mm (8.5" x 98.42")
Min: 13.2 x 13.2 mm (0.52" x 0.52")

Acceptable Paper Sizes (W x L)

Max: 220 x 2530 mm (8.66" x 99.60")
Min: 50.8 x 50.8 mm (2" x 2")

Acceptable Paper Weight (Thickness)

50 to 105 g/㎡ (14 to 28 Lbs)

Daily Duty Scan ( Sheets )

3,000

Roller Lifetime (Scans)

100,000

Pad Lifetime (Scans)

20,000

Action Button

3 Buttons: Up, Down, Scan.
9 Function Keys. All Customizable.

Power Supply

24 Vdc/ 0.75 A

Interface

USB 2.0

Net Weight

1.66 Kgs (3.66 Lbs)

Dimensions (W x D x H)

263 x 128 x 148 mm (10.36″ x 5.02″ x 5.83″)

Protocol

TWAIN Compliant

OS

Windows 2000 / XP / Vista / 7 / 8

Hardware Requirements

Pentium IV 2.0 GHz processor (Pentium IV 3.0 GHz processor recommended)
CD-ROM Driver
One available USB Port (USB 2.0 recommended)
1GB RAM or higher recommended
800 MB free HDD space (1 GB or larger recommended)